Platelet Rich Plasma (PRP) Training
This activity has been designed to meet the educational needs of clinicians (Physicians, Registered Nurses, Nurse Practitioners, Licensed Practical Nurses, Physician Assistants, Dentists, and Medical Assistants.) involved in the care of patients seeking aesthetic enhancement procedures.
This comprehensive one-day hands-on-training workshop explores the multiple cosmetic applications of Platelet Rich Plasma (PRP) . The didactic presentation will include; PRP theory, mechanism of action, the optimal level of platelets needed for angiogenesis. Are more platelets better? Does equipment matter?. We will discuss PRP as a stand-alone treatment, PRP with fat grafting, PRP with fillers (Vampire Lift®), PRP with Ablative Fractional Laser. Discussion of other complementary modalities and protocols used with PRP to enhance treatments, such as microtrauma techniques, micro-needling, photo-stimulation, stem cell attractants, carboxytherapy and mesotherapy.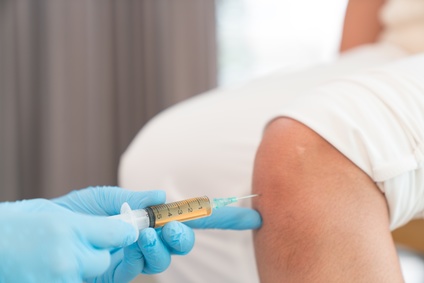 PRP Training
Primary focus regarding treatment protocols will be on face and neck aging and treatment protocols for hair loss. However, we will also discuss scars, acne, stretch marks, cellulite and more using PRP. A live demonstration will be performed explaining procedure and techniques to improve your knowledge and ultimately prepare you for the hands-on practice sessions.
With AE's low student to instructor ratio, our intense afternoon hands-on sessions supervised by our expert instructors will provide a one-on-one experience. During the lecture and Q & A sessions you will gain valuable insight and pearls on the "how to" of this unique business model for optimal success. Each attendee will receive a course manual, PowerPoint files, studies, business and practice documents.
**Aesthetic Education is an Educator and we do not sell any equipment in any of our courses, we do however offer insight into the best equipment on the market and as well information on purchasing sources.
PHYSICIAN & PHYSICIAN ASSISTANT CONTINUING EDUCATION
Note: This course is not approved for CME Cat 1, however, this course is designed with optimal criteria which may be eligible for CME Category II credits, which are self-submitted by the practitioner to their respective State Board. Physicians and PA's should only submit and claim credit commensurate with the extent of their participation in the activity.
Event staff will be glad to assist you with any special needs. Please contact any of our AE representatives prior to the live event at (240) 258-7129.
CANCELLATION POLICY
Please note: All cancellations must be received (not postmarked) in writing via mail or fax transmission. Cancellation Policy must be strictly enforced since workshops require a great deal of planning and preparation.
A refund will be given, less a $200.00 processing fee, if canceled at least 14 days prior to the start of the workshop. Any cancellations after this time will not qualify for a refund but may be used toward a future workshop with the approval of the administrative department of AE.

Since a minimum number of registrants are necessary for each course and we do not meet this minimum, or for any other reason beyond our control the course is canceled or postponed, the registration fee will be refunded in full. Please note, AE is not responsible for deposits to hotels, non-refundable airline tickets or fees associated with necessary airline changes. Thank You in advance for your understanding and cooperation.

It is the responsibility of every licensed medical professional to know and follow their own State guidelines and regulations relating to their area of practice and should direct such questions to their state board.